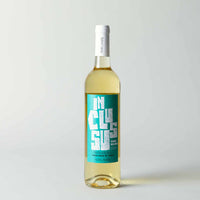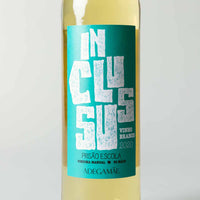 Inclusus White Wine 2020 - Adega Mãe
Country: Portugal
Region: Lisbon
Type: White
Varietals: Fernão Pires e Arinto
Handmade in PORTUGAL, by our Prison Community.
This is a project developed by Adega Mãe and Leiria Prison Establishment (Youth).
Adega Mãe and Leiria Prison Establishment (Youth) established a partnership to enhance professional skills for young inmates, in viticulture and wine production, which also translates into the launch of a new wine brand on the market. Inclusus wines, red and white harvests, are now available to consumers and are the result of this project that aims to enhance social reinsertion tools. From viticulture and harvesting to the final cellar work, the production process of these wines relies on the commitment of young inmates.
The Inclusus Project started with the 2018 harvest, when the grapes that gave rise to the first wines now on the market were harvested. The 201 harvest has also already taken place, precisely at Lagar D'El Rei Farm, an area under the administration of the Leiria Prison Establishment (Youth), where 8,9 acres of vines are in production. Of the approximately 1 tons of grapes harvested, are destined for vinification at Adega Mãe, in Torres Vedras, giving rise to
8,000 bottles of Inclusus wine.
Reshape Ceramics delivery orders take between 3 to 10 weekdays.
For more information on delivery policies please please check the Shipping Policy page or send us an email to hello@reshapeceramics.com